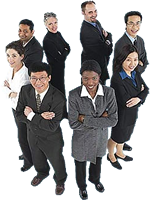 Introduction of Privacy Policy
Insurance Staffing Consultants (ISC) is an executive search and recruiting firm that collects personal and business information necessary to provide its services. ISC is committed to protecting the privacy of data from both clients and candidates. We do request personal data through resumes, submission forms, etc. We also request business data through various channels. This statement summarizes our web site's policies regarding the collection, use, and transfer of such personal and business data.
Acceptance of Disclosure
You are not required to disclose any information to ISC, however, upon entering any Personal Information or Business Information on this web site, you are agreeing to disclose this information to ISC for the purpose of receiving the services offered on this web site. Because the Personal Information or Business Information is needed to properly assess the career opportunities and candidates available, ISC will be unable to provide you the services offered by this web site should you choose not to provide the requested Personal Information or Business Information.
Personal Information We Collect
ISC is an executive search and recruitment firm. In order for ISC to provide candidates with the services it offers, ISC collects a variety of personal information. Personal Information may include: Contact Data (such as your name, telephone numbers, mailing and e-mail addresses); Demographic Data (such as your zip code, and income). It may also include your career history, education history, professional experience, and resume/CV. Candidates may communicate with us by e-mail or may otherwise submit information by completing online forms or surveys, and any information provided in any such communication or submission may be collected as Personal Information. By choosing to enter your personal information on this web site, you indicate your willingness to disclose this information to ISC and to be considered, when appropriate, for any of ISC's recruiting search job openings.
Business Information We Collect
In order to be able to effectively find candidates ISC may request that its business clients provide Business Information such as: Name and/or location of business; Position(s) available; Candidate Requirements; Salary and/or benefits offered. ISC may also request information pertaining to the Company's financial history
Information Not Requested
It is ISC's policy to not seek any information through our web site of a sensitive nature, unless it is legally required for recruitment purposes. Such information includes, but is not limited too, race or ethnic origin, political affiliations, religious or similar beliefs, trade union memberships, physical or mental health or history, sexual history or orientation. ISC will not seek this information from you and encourages you not to provide any type of information that could be sensitive. If you choose to provide this type of information to ISC for a specific purpose, you may choose, at that time, and it must be in writing, to limit how such information may be used. If you do not specifically limit how this type of information may be used, it may be used as described in this Privacy Policy.
Use of Information Collected
ISC uses Personal Information and/or Business Information to present employers to potential candidates and potential candidates to employers.
Confidentiality of Personal Information or Business Information
Except as otherwise provided in this Privacy Policy, we will keep your Personal Information and/or Business Information private and will not share it with non-licensee third parties, unless such disclosure is necessary to: (a) comply with a court order or other legal process; (b) protect our rights or property; or (c) enforce our Terms of Service.
Links
Please be aware that this web site may contain links to third-party web sites. This Privacy Policy applies solely to information collected by this web site. This Privacy Policy does not apply to, nor is ISC responsible for, any content, privacy practices, or conduct of such web sites. We encourage our users to be aware when they leave our web site and to read the privacy policies of each and every web site, including those that collect personally identifiable information.
Cookies
Cookies are packets of information that are stored on your computer's hard drive. At ISC, cookies allow us to keep track of the areas of the web site you visit and thereby offer you easy access to the information you find most relevant. They also allow us to greet you by name when you visit and to remember that you have already registered. No secure information or information about your personal identity is ever contained within our cookies. Your web browser is most likely set to automatically accept cookies, but you can consult your browser help file if you wish to change these settings. If you elect not to receive cookies, registered users may not be able to us all the features and web pages on our web site.
Updates and/or Changes to the Privacy Policy
ISC reserves the right, at any time and without notice, to add to, change, update or modify this Privacy Policy, simply by posting such change, update or modification on the web site. Any such change, update or modification will be effective immediately upon posting on the web site.
Your Acceptance of this Agreement
By using our web site, you consent to the collection and use of information by ISC specified above. If we decide to change our Privacy Policy, we will post those changes on this page so that you are always aware of what information we collect, how we use it, and under what circumstances we disclose it. Nothing contained in this Privacy Policy is intended to create a contract or agreement between ISC and any user visiting the web site. If you have any questions about your Personal Information or Business Information, please e-mail ISC's privacy contact person at
NOTE: This Privacy Policy is inapplicable to any commercial Web site directed to, or that knowingly collects information from, children under age 13.