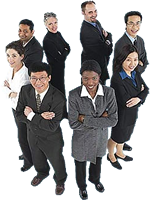 Introduction
The use of this site is governed by the policies, terms and conditions set forth below ("Terms of Use"). Please read them carefully. If you do not agree to these Terms of Use, do not use this web site. By accessing, using or downloading materials from this web site you agree to be bound by these Terms of Use. Your use of this site indicates your acceptance of these Terms of Use. Your submittal of any personal information to Insurance Staffing Consultants, Inc., website indicates acceptance of these Terms Use. These Terms of Use shall supercede any subsequent terms or conditions included within this website, whether or not such terms or conditions are signed by Insurance Staffing Consultants, Inc. Insurance Staffing Consultants reserves the right to make changes to this site and these of Use at any time.
Privacy Policy
For information regarding privacy, please review the Privacy Policy which also governs your visit to the Insurance Staffing Consultants, Inc. website.
Copyright and Trademarks
The entire contents of this site are protected by copyright (all rights reserved). The downloading or printing out of individual pages and/or sections of the web site is permitted providing that the copyright notes and other statutory proprietary designations are retained. If you download any software or other data from the web site or copy it in any way, Insurance Staffing Consultants Inc. retains the right of ownership. The reproduction (in full or in part), transmission (by electronic or other means), modification, linking, or use of this web site for public or commercial purposes is prohibited without prior written consent of Insurance Staffing Consultants, Inc.
Disclaimer of Warranties
THE INFORMATION, MATERIALS, SERVICES AND PRODUCTS INCLUDED ON THIS WEBSITE MAY INCLUDE INACCURACIES OR TYPOGRAPHICAL ERRORS. ISC MAY MAKE CHANGES OR IMPROVEMENTS TO THIS SITE AT ANY TIME.
THE MATERIALS ON THIS SITE ARE PROVIDED 'AS IS' AND WITHOUT WARRANTIES OF ANY KIND EITHER EXPRESSED OR IMPLIED, TO THE FULLEST EXTENT PERMISSIBLE PURSUANT TO APPLICABLE LAW, ISC DISCLAIMS ALL WARRANTIES OR MERCHANTABILITY AND FITNESS FOR A PARTICULAR PURPOSE. ISC DOES NOT WARRANT THAT THE FUNCTIONS CONTAINED IN THE MATERIAL ON THIS SITE WILL BE UNINTERRUPTED OR ERROR FREE, THAT DEFECTS WILL BE CORRECTED, OR THAT THIS SITE OR THE SERVER THAT MAKES IT AVAILABLE ARE FREE OF VIRUSES OR OTHER HARMFUL COMPONENTS. ISC DOES NOT WARRANT OR MAKE ANY REPRESENTATIONS REGARDING THE USE OF OR THE RESULT OF THE USE OF THE MATERIAL IN THIS SITE IN TERMS OF THEIR CORRECTNESS, ACCURACY, RELIABILITY, TIMELINESS, OR OTHERWISE.
Prohibited Uses
The Site may only be used for lawful purposes. Insurance Staffing Consultants Inc. specifically prohibits any use of the Site, and all Users agree not to use the Site, for any of the following:
Posting any incomplete, false, inaccurate or misleading biographical information or information which is not Your own accurate resume.
Deleting or changing another persons' information posted on the Site.
Posting or transmitting any message, information, data, text, software or images, or other material that may invade another's privacy or publicity rights or is unlawful, harmful, threatening, abusive, harassing, defamatory, libelous, vulgar, obscene, or otherwise objectionable in the opinion of Insurance Staffing Consultants, Inc.
Posting a sexually-explicit image or statement.
Using any device, software or routine to interfere or attempt to interfere with the proper working of this Site or any activity being conducted on this Site.
Limits on Liability
Insurance Staffing Consultants, Inc. will not be liable for:
The contents of any communication, message, or information provided to Insurance Staffing Consultants, Inc. by you or other third parties.
The contents of any website not controlled, owned, or operated by Insurance Staffing Consultants, Inc. that is accessed from or linked to this website by direct or indirect means.
Any damages or injury caused by, including but not limited to, any failure of performance, error, omission, interruption, defect, delay in operation of transmission, computer virus, or line failure.
Any direct, indirect, incidental, special, or consequential damages whether in contract, tort, strict liability or otherwise, arising out of or relating to use of or inability to use this website.
Indemnification
You agree to indemnify and hold Insurance Staffing Consultants, Inc., its directors, officers, employees, agents and representatives harmless from all claims, liabilities, damages, and expenses (including attorneys' fees and expenses) arising out of or relating to (a) your use of this website; (b) any alleged breach of these Terms and Conditions of Use.
Limited License
This website is for your personal and noncommercial use. Except as otherwise expressly provided, you may not modify, copy, distribute, transmit, display, perform, reproduce, use, publish, license, create derivative works from, transfer or sell any information or content contained in the system, Humanatek.com website as a whole software, products or services obtained from or available as part of or in conjunction with this system. You are granted a non-exclusive, non-assignable and non-transferable license to use this system only under these Terms and Conditions of Use.
This license is not a sale of any of the owner's rights. The www.insurancestaffing.net website may be used only by you, and you may not rent, lend, sub-license or transfer the website or any data residing on it or any of your rights under this agreement to anyone else. You may not develop or derive for commercial sale any data in machine-readable or other form that incorporates or uses any substantial part of the website. You may not transfer to or store any data residing or exchanged over the www.Humanatek.com website in any electronic network for use by more than one user unless you obtain prior written permission from Humanatek.com.
Law
The Terms and Conditions of Use shall be governed by the laws of the State of California, without regard to principles of conflict of laws, and any dispute of any sort that might arise between you and Insurance Staffing Consultants, Inc. or its affiliates.
This site is operated by Insurance Staffing Consultants, Inc. from the State of California, United States of America. Insurance Staffing Consultants, Inc. makes no representation that materials in this site are appropriate or available for use in other locations. If you access this site from other locations, you do so on your own initiative and are responsible for compliance with local laws, if and to the extent local laws are applicable.
These Terms of Use shall be governed by internal California and relevant federal laws, and irrevocable consent is hereby granted by both parties to the exclusive jurisdiction and venue for any action or dispute in the state and federal courts located in San Francisco, California. Use of this site is unauthorized in any jurisdiction that does not effect to all provisions of these Terms and Conditions of Use, including without limitation this paragraph.
Remedies
Given the nature of these terms, you understand and agree that, in addition to money damages, Insurance Staffing Consultants will be entitled to equitable relief (including, but not limited to, attorney fees) upon a breach of them by you.
Waiver
No waiver by Insurance Staffing Consultants, Inc. shall be construed as a waiver of any proceeding or succeeding breach of any provision.
Survival of Provisions
Each provision of the Terms of Use shall be construed as separately applying and surviving even if for any reason one or other of those provisions is held to be inapplicable or unenforceable in any circumstances. These Terms Use shall be severable and construed to the extent of their enforceability in light of the parties' mutual intent if deemed at all unenforceable by the competent court.
Entire Agreement
We intend that these Terms Use constitute the entire agreement between Insurance Staffing Consultants, Inc., and you. Any changes to these Terms of Use between Insurance Staffing Consultants, Inc. and you must be in writing and signed by both parties.
Contact Information
This site is owned and operated by Insurance Staffing Consultants, Inc with a corporate office mailing location at:
Insurance Staffing Consultants, Inc.
1288 Columbus Ave., Suite 280
San Francisco, CA 94133
If you have any questions concerning this site or its policies, please write to us at the above address or contact us at: